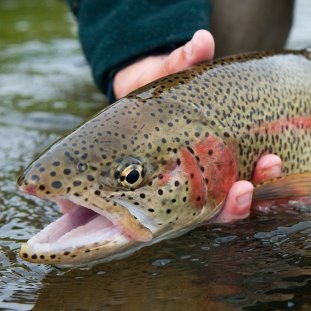 Know the Current - If you understand how a river or stream is shaped by moving water you'll be able to find trout very easily. Deep pools created by the current can hold a big trout, but smaller trout can also be found in them. The large trout will most likely be in these pools during dawn and dusk.
Power Bait ONLY Works on Stocked Trout - If you're fishing for trout with power bait you better make sure the trout in that body of water were stocked (farm raised) and not native. Native trout will not bite on power bait, the only reason stocked trout will is because they are fed pellets in the hatchery and will eat anything that resembles or smells like the pellets.
The Best Live Bait - Hands down night crawlers are an effective live bait for catching trout, along with minnows and crayfish. A neat trick is to take a look at what lives on the shore of where you're fishing for trout and see what might be native to their lunch or dinner menu. Mayflies, when native to the area, can be deadly during the fall season.
The Silver Spoon - Trout, especially lake trout love to bite on a small silver spoon. There are several different rigs that might work best for you, try them out to see what works best.