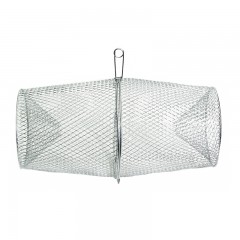 Galvanized Minnow Trap
Our Compac Galvanized Minnow Trap works great in both flowing and still waters. Each trap is made with 1/4" steel mesh and zinc coating to ensure durability. The convenient two piece design makes it easy to remove your bait.
Compac
1/4" steel mesh wire construction
Zinc coated for added durability
Inverted cone shaped ends
Convenient two piece design
Includes one clip
Specifications
Stock #
DIMENSIONS
MSRP
789
16.5" X 9" X 7"
$40.99
Other Minnow & Smelt Nets.
Reviews
Add Review
There are no reviews for this product. be the first one!