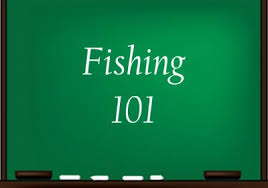 If you are thinking about trying your hand at fishing then you're in luck.
Below is a list of the beginning fisherman's essential 10 things that beginners needs to know when packing up your gear and heading towards the water. In order to ensure a successful fish fry, you must know the most beneficial basics.
Do your research.
Before you cast that first line, make sure you have a general idea about what you are getting yourself into. There are plenty of fascinating fishing books that can all but put you right in the middle of the action before you even pick up a pole.
Understand the basic procedures.
Once you have some reading under your belt, you can start by beginning some pre-fishing skills. Get familiar with such tasks as adding fishing bait to hooks, casting your line and tying knots before you're drifting with the wind in your boat.
Choose the right equipment for you.
Beginners will benefit the most from a specific rod and reels that are simpler for someone who is just beginning to cast. Open-faced fishing reels are never recommended for somewhat just starting out.
The bait is the main course of fishing .
Be aware of what fish you are trying to catch and what kind of bait attracts them. Catfish, for example, respond to either specially made bait for catfish or even raw chicken liver while bream fish like insects like crickets. The wrong bait could mean a long fishing trip.
Location, location, location.
Have an idea of where your fish have chosen to spawn. Finding these locations lead to a great deal of fish.
Check the weather.
An overcast sky can lead to some of the most successful fishing trips. While you can still catch fish in other weather conditions, an overcast sky has proven to be the best.
Dress for success .
Boots are a must. As you will usually be required to be near water, boots will be beneficial for the times that you will have to unexpectedly wade into it. Also, make sure you are wearing layers as the weather can drastically change until the afternoon. If you have longer hair, it is a good idea that you wear it back in a ponytail.
Bring food.
Since this will most likely be your first trip, bring a lunch. Sometimes it can take quite a while before you even get the first bite.
Bug Spray!
If you are near water you are even closer to bugs, especially mosquitoes. Remember the bug spray and you should be itch free.
No children, no worries.
If you have to constantly pay attention to small children, try to not bring them on your fishing trip. In order to bring home your prized fish, you must have optimal concentration.