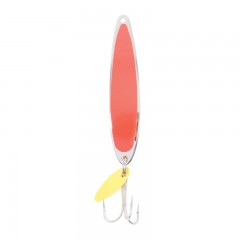 When it comes to fishing on the hard water for perch and trout my go to lure has to be the Swedish Pimple.
The Swedish Pimple comes in a variety of colors and sizes but I stick mostly with the smallest sizes in a variety of colors for most of my fishing.
In order to get the most out of your Pimples I recommend either testing the action in an aquarium or even better observe the lure in action with an underwater camera. With a underwater camera you are able to see how fish are reacting to the lures action and you are also able to see how the movement you make with your rod effects the action of the pimple.
Another important tip is to watch your line... As you will quickly see if you use the underwater camera, a lot of the hits are so light that you will miss a large amount of your hits. This can be prevented in large part either by closely watching your cameras video feed or closely watching your line... Any odd movement to the side & you should quickly set your hook. Watching your line closely will increase your catch by as much as 3 or 4 times and is equally important with all ice lure presentations.
Finally tip your lure with perch eyes or minnow heads to increase your strikes yet again. If you find you are attracting fish but are having few strikes, remove the treble hook and attach a tiny chain then attach a hook to the bottom of the chain. This enables the pimple to attract in fish and has the bait dangling a little below the lure... It can make the difference on tough days.
Give the Swedish Pimple a try, it's been around for a while but is still one of the most effective lures for ice fishing... And don't be afraid to go small. It will not disappoint.