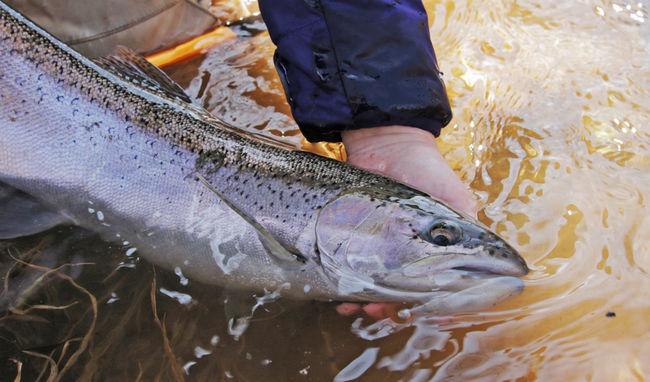 KINGSTON — One of my goals has been to pick up and learn as many styles of fishing as I can. The learning will never stop, and the more versatile I become, the greater my odds of success in various situations.
Aside from the fish, weather conditions are my toughest opponent. It's not about waiting for the perfect day to go fishing because to me any opportunity to get out on the water safely is the best time to go. With another ice fishing season in the books, my focus has switched gears to open water trout. Adapting to the temperamental springtime weather situations and gearing up accordingly has given me the opportunity to make the most out this time of year.
Lake Ontario is an incredible fishery, holding many world-class angling opportunities but you don't require a massive boat to take advantage of this. Migratory rainbow trout (called steelhead) spend much of their lives in the small rivers and creeks that feed into Lake Ontario, known as tributaries. Steelhead begin entering the tributaries in autumn and many reside in these rivers throughout the winter until spring when they spawn. While most of these rivers and creeks are closed until trout opener in May, but there are sections of these waters that are open to anglers offering year-round angling opportunities. (Refer to the fishing regulations for more details.)
My first approach to steelhead fishing was years ago with a fly rod and learning from a couple of friends during autumn. In many situations, I have found fly fishing to be the best option with thick brush surrounding the rivers, normally making it a tricky situation to cast with spinning gear. Fly fishing (with practice) has allowed me to cast at hard to reach places with a very finesse and natural-looking approach, tiny life-like bug or egg patterns and light line. Trout have incredible eyesight and are typically found in very clear, clean and cold waters. If you can see them, often they can also see you. With lower water levels in the fall, the conditions are much different than spring. Rain and snow melt-off happens throughout the spring months until the temperatures stay consistently warm. Water in the rivers and creeks can turn to 'chocolate milk' colour very quickly making it nearly impossible for fish to see a small bug or egg pattern fly. This is when float fishing can be a great advantage.
Float fishing with a centrepin reel is a style of fishing that allows a natural drift in a drag-free presentation. Without a drag system, there is no resistance on the line allowing the presentation to drift perfectly at the speed of the current. Live bait such as roe (fish eggs), artificial roe and small, soft plastic worms are common with this type of fishing. Steelhead are always facing into the current awaiting their next meal, making it crucial to use light line (as not to be seen) and very natural looking presentations floating along with the current. Anything unnatural makes it very difficult to get a bite from these wary fish and if they're spooked at all they just won't eat.
While I have only had a few float fishing trips under my belt over the last few years, I have found it quite easy to pick up and I can appreciate the advantages. In spring with the stained water conditions as I mentioned, live scented bait (such as roe) faees well when visibility is low. With an actual float (a type of bobber) on the line, a perfect drift can be achieved each time if adjusted to the proper depth as not to drag on bottom and casted properly. The casting style is quite different than that of conventional tackle, but it is a lot of fun once you get the hang of it. Longer rods are helpful to cast further and also provide better control over spunky trout. My favourite part about using a centrepin is the challenge of fighting a fish without drag. The runs and jumps are both nerve-wracking and amazing at the same time.
There are endless articles and videos online about float fishing and fly fishing, and I highly encourage adding these styles of fishing to your skill set and hitting some of the many tributaries!