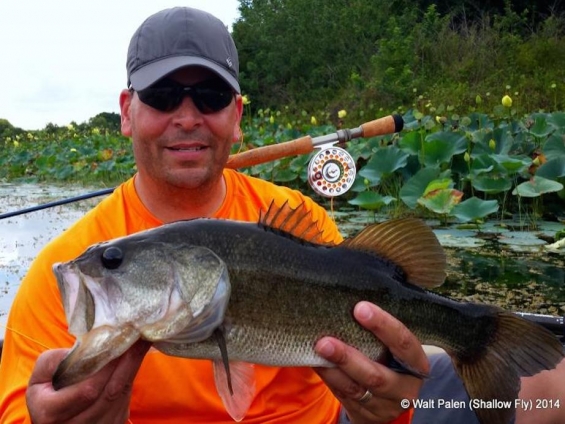 First time Fishing for giant largemouth bass.

"My pal Walt Palen put me on some of his familiar bass water at the Tenoroc area near Lakeland, Florida," said Christopher Arnold. "So many lakes, but with only a couple of hours before the lightning was to roll in, he chose one close. It held at least two 12' gators, which was unsettling to say the least.

My gear with me was a Streamside Tranquility 9' 6wt rod with a Streamside Harmony reel, floating line and an 8wt, 9' Tranquility with matching Harmony reel with sink tip. My fly selection was supplied by Ted's Custom Flies with the scoring fly being a white/chartruese Zuddler. My first hook up was a 17" bass. See video.

http://www.youtube.com/watch?v=MrwUBAEY4qg

There were several missed hook sets...but this bass in the pics shot like a torpedo from the hydrila and nailed the fly. Great fight on a 6wt! Not long after, the sky grew dark and the sky opened up. Great first time fishing largemouth!"