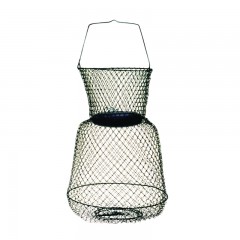 Floating Wire Fish Basket
The Compac® Floating Wire Fishing Bags are made to store your fish while keeping other hungry animals away. 3/4" mesh is made with a rust resistant finish and features two trap doors; one in the neck, one in the bottom. No matter how many fish you store in the bag, it's guaranteed to float!
Compac
3/4" mesh
Trap doors in both neck and bottom
Single handle
Coated with a rust resistant finish
Floats!
Specifications
Stock #
DIMENSIONS
MSRP
W16
14" X 24"
$49.38
Other Bags & Creels.
Reviews
Add Review
There are no reviews for this product. be the first one!