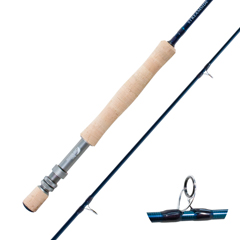 Tranquility
This series has been discontinued. Please contact individual stores listed under 'Buy Now' to see if they still have product available.
Streamside
IM8 graphite blank
SiC guides
Graphite reel seat
Dual titanium locking rings
Grade AAA Portuguese cork grip
Comes with a soft cloth fly rod bag and a Codura
Specifications
Stock #
LW
LENGTH
HANDLE
ROD WT
PCS
MSRP
ST904
4
9'0
HALF WELLS
95g/3.4oz
2
-
ST907
7
9'0
HALF WELLS
115g/3.9oz
2
-
ST909
9
9'0
EXTENSION BUTT
120g/4.2oz
2
-
Other Fly Fishing Rods.
Reviews
Add Review
"So Impressed I purchased 2!"

|

ST904

I have had the 5wt version for a few years now and have caught everything from arctic grayling to brown trout with it. Just an amazing rod. Light, sensitive and very durable. Probably the best compliment I can give any fly rod is that it can handle the unexpected. I liked the rod so much that I went out and got the 9 wt as well! I needed something a bit bigger for lake trout, and it is just ideal. I would definitely recommend these rods.

"VERY IMPRESSED"

|

ST904

I have been flyfishing for over 10 years and guiding for the last 3. I have used allot of friends & clients very nice expensive rods. The Tranquility was a pleasant surprise. At first I had to adjust to the lack of backbone of the rod but over a couple days using less effort I was casting further then ever! It is one of the lightest rods out there and half the price of its competition. I asked a old friend who has been Fly fishing salmon for over 65 years to try the Tranquility rod & Harmony Reel. His response was "Now that's a nice light setup". This summer I have hooked a 20lb Salmon and some aggressive grilse. It has exceeded my expectations! - 4-peice, 9ft, 8wt

"Stellar"

|

ST904

I've recently added the 5wt (905) to my collection and it's amazing. Cheers!

"AMAZING"

|

ST904

this rods action is just amazing I can european nymph and cast a fly far with the same rod. it is also very light!

"Excellence"

|

ST909

I cannot say enough about the quality of this rod. I intended to use this rod for larger species like salmon and striped bass, which I have, but have also used it now for american shad, big brown trout and smallmouth bass. I can't leave it home! Cheers!