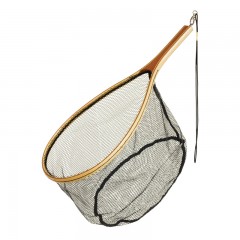 Rubberized Catch & Release Net
Our Streamside® Rubberized Catch & Release Net combines form and function to produce a high quality net. Each frame is handcrafted and comes with a heavy duty clip on lanyard for easy storage and transportation.
Streamside
Wood frame
Rubberized netting
Handcrafted, traditional teardrop style
Heavy duty clip-on lanyard
Specifications
Stock #
DIMENSIONS
MSRP
730
16" X 10" X 12"
$80.00
Other Landing Nets.
Reviews
Add Review
"the cat's meow!"

|

730

I just received this net two days ago and tried it out yesterday evening. Wow! Works great! I especially like two things about it: 1) the rubberized netting, which prevents your fly from getting stuck like it does in nylon fiber netting plus it's much better for the fish, and 2) I like how the netting itself is shaped, with the flat bottom. Great for releasing fish, as you can simply let it float in the water with the fish still inside, and have plenty of room for hook removal. I also really like it's width. I'd certainly recommend this net to my fishing buddies!

" A Catch and Release must"

|

730

If you are a C&R angler then this net is a must have. The rubberized coating on the netting assures a safe and healthy release of whatever you may be after. With a larger net surface than the other style nets this will allow both large and small catches to find their way home again to bring you the joy of seeking them out at another time..