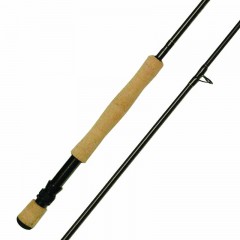 Elite
Streamside Elite is our basic fly rod series designed to introduce you to the incredible world of fly fishing. With two different handle styles and a large variety of lengths and line weights, an Elite fly rod is the perfect way to develop a real feel for the sport. Backed by our 5 year Streamside no hassle warranty, it's premium quality at a price you can't beat.
Streamside
IM7 graphite blank
Black aluminum or cherry wood reel seat
Dual locking rings
Grade AAA Portuguese cork grip
Includes soft cloth fly rod bag
Specifications
Stock #
LW
LENGTH
PCS
HANDLE
MSRP
SE1010
10
10'0"
2
EXTENSION BUTT
$162.00
SE664
4
6'6"
2
WESTERN STYLE
$170.00
SE705
5
7'0"
2
WESTERN STYLE
$170.00
SE765
5
7'6"
2
WESTERN STYLE
$170.00
SE805
5
8'0"
2
WESTERN STYLE
$170.00
SE868
8
8'6"
2
EXTENSION BUTT
$178.00
SE909
9
9'0"
2
EXTENSION BUTT
$178.00
SE9610
10
9'6"
2
EXTENSION BUTT
$162.00
Other Fly Fishing Rods.
Reviews
Add Review
"For everyone!"

|

SE765

At this price, every angler should own this rod, what a deal! I have two of these rods that I use to target small stream brook trout, and arctic grayling. They serve that purpose very well. I am usually bushwhacking and roughing it, so I can be pretty hard on my rods. This rod gives me the performance I need at a price I can live with! I recommend this rod for everyone.

"A brute"

|

SE1010

This rod has crossed blade with dozens of chinooks and unless the line broke, the fish didn't have a chance. The best price/quality in his category

"Solid!"

|

SE1010

I was throwing huge musky flies with the SE1010 last fall and couldn't be happier with it's performance. Very powerful. I also use the SE603 for trout in many local hard to navigate streams and brooks. Perfect for tight quarters and light for long hikes. Both Elite's are awesome! Cheers!