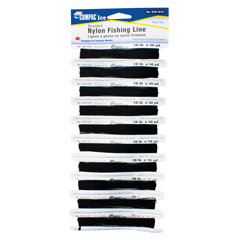 Braided Line - 10 Yd Coils
The Compac® Braided Line comes in 17 yards per coil and 10 coils per strip. The smooth line allows for longer casts and superior handling. Comes in black only.
Compac
10 yards per coil
10 coils per strip
Excellent for ice fishing
LW: 15 lb, 100 yds
Black colour
Specifications
Stock #
MSRP
518-1010
$23.95
Other Ice Lines.
Reviews
Add Review
There are no reviews for this product. be the first one!