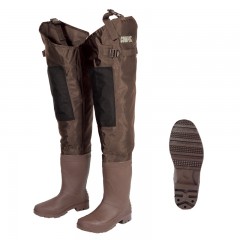 Hip Wader - Cleated
Our Compac Hip Wader with cleated sole provides fisherman with maximum waterproof protection and traction control. Flexible urethane sealant protects against abrasion. This heavy duty wader features a PVC injected boot with neoprene insulation. Bonus items included are: convenient boot hanger and plastic toe guard insert.
Compac
Inside boot seams sealed with strong adhesive to ensure maximum waterproof protection
Flexible urethane formulated sealant and adhesive that waterproofs, seals and protects against abrasion
PVC injection molded boot with neoprene insulation
Heavy weight PVC/Nylon construction
Quick release button
Bonus included: boot hanger, plastic toe guard insert and care manual
Specifications
Stock #
SIZE
MSRP
2360-7
7
$136.80
2360-8
8
$136.80
2360-9
9
$136.80
2360-10
10
$136.80
2360-11
11
$136.80
2360-12
12
$136.80
2360-13
13
$136.80
Other Nylon/PVC Waders.
Reviews
Add Review
There are no reviews for this product. Be the first one!