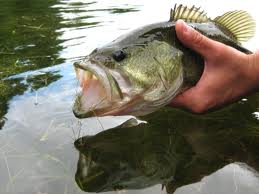 Summer can be a tough time for bass fishing. Bass become less active as water temperatures creep up into the 80s and 90s, but the big largemouth bass that seemed to be everywhere during pre-spawn are still out there; it just takes a little extra work to find them.

After they spawn, largemouth bass typically head to drop-offs and points near spawning flats, where they can feed and recuperate. The period right after the spawn can be a top time for largemouth bass fishing, but as spring turns to summer, bass seem to vanish in many lakes and reservoirs. Of course, summertime largemouths don't really disappear. They simply become less inclined to chase fast-moving lures, instead preferring to lay low in deep water where they can ambush prey without expending too much energy.

Hot weather means higher metabolic rates for bass and other game fish. This means that they are usually feeding actively during summer; but they also try to avoid wasting energy by chasing prey that may out-swim them, or by spending too much time in warmer shallow water. In short: they have to eat, they're just more careful about it.

When you hit the water to search for largemouth bass in summer, target deep shoals, humps and rock-piles. Focus especially on those with a mix of rocks and vegetation. Weed lines and patches of weeds with a rocky area or drop-off nearby can be particularly productive. Rocky structure may also hold a mixed bag of smallmouth and largemouth bass in many waters.

Jigs, diving crankbaits and jerkbaits are often some of the most productive bass lures during summer. Soft plastic baits like, soft jerkbaits and plastic worms can also be killers, especially when fished on a Texas rig or drop-shot rig, which helps to keep your bait close to the bottom. If bass refuse to strike a fast-moving bait, switch to a subtle soft plastic or live bait and slow your retrieve way down to entice those big lethargic largemouths. Sometimes a live shiner or a big juicy nightcrawler will tempt fish that refuse artificial offerings.

For those of us who are restricted to fishing from shore, summer isn't necessarily a wash-out as far as bass fishing is concerned. Even on the hottest days, some bass still move shallow to feed at dawn and dusk, when the heat and sunlight are less intense. You can often catch these fish on topwater baits like poppers, or on soft plastic worms, jerkbaits and stickbaits. Cast your bait around stumps, fallen trees, docks, near-shore drop offs and weed lines.

Fishing for largemouth bass in summer rarely leads to the same boat-filling bonanza that can occur in spring or fall, but it would be a mistake to pack your rod away during the warmer months. The right bait in the right location can put bass in your livewell just like any time of the year. Just be sure to pack some cold drinks; it might get hot out there.