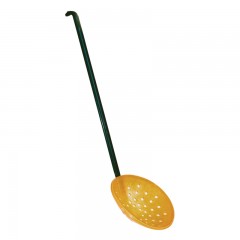 Plastic Skimmer
Compac
Plastic scoop
High visibility yellow scoop & black handle.
Specifications
Stock #
SCOOP DIAMETER
HANDLE
MSRP
3013
4-3/4"
12"
$8.00
Other Skimmers & Rod Holders.
Reviews
Add Review
"cleaning up"

|

3013

after drilling your holes through the ice this little gem will come in handy just to keep your hole clean from ice and debris. Worth its weight in gold, this lightweight skimmer makes easy work of a messy job.