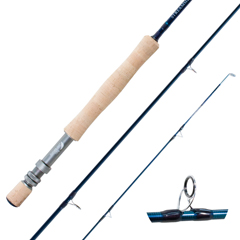 Tranquility Stillwater
The Streamside® Tranquility™ Stillwater rod was designed with a stiffer butt section allowing for greater line speed and better accuracy while casting. The fast progressive taper coupled with oversized snake guides will enable the caster to make ultra smooth long casts with little effort. Although this rod was designed for Stillwater applications it can be used for a variety of fishing applications from small ponds to big lakes and creeks to rivers. This rod can handle Trout, Carp, and virtually any species that the angler persues.
Streamside
IM8 graphite blank
SiC guides
Graphite reel seat
Dual titanium locking rings
Grade AAA Portuguese cork grip
Comes in a custom fit rod tube
Specifications
Stock #
LW
LENGTH
HANDLE
ROD WT
PCS
MSRP
ST1006-4
6
10'0"
EXTENSION BUTT
125g/4.4oz
4
-
ST1007-3
7
10'0"
EXTENSION BUTT
125g/4.4oz
3
-
Other Fly Fishing Rods.
Reviews
Add Review
"Tranquility stillwater flyod"

|

ST1007-3

The Streamside Tranquilly 10'0" 7wt still water fly rod (3-piece with cloth sock and Cordura rod tube). This rod has the ability to over power fish when required in our faster rivers. It is light in weight and takes no effort to cast with all hand sizes. I have been very impressed with the performance of this rod and will be looking forward to trying out other Streamside products.

"Just amazing"

|

ST1006-4

I recieved the 10' 6wt. I used it in the north american Loch style fly fishing championships and it was key to brining my team to 2nd place medal. and bringing me to a 6th out of sixty men individually.

"BEST STILL WATER ROD MADE!!!!"

|

ST1007-3

This rod is the ultimate still water rod. the tip is a very whipy feeling and can whip out 75 foot casts in a few false casts, and the rest being a very nice strong fish fighting lower three quarters. I can easily cast out fast sinking lines with ease. I have used this rod loch style fly fishing for rainbow trout. I use the extended fighting butt for the hang which is a key in loch style fly fishing. I have recently tried this rod on lake white fish whos take is usually very subtle and even under a 7 ips (sinking 7 inches per second) sinking line I could feel the very slight strikes throught the sensitive tip. by far my favourite still water rod and for half the price of others. great job Streamside!

"Wow"

|

ST1006-4

First time out this morning with my new Streamside Stillwater rod chasing white perch. All I can say is wow... This rod casts like a dream and the six weight provided for the perfect match for the big white perch I was after... Along with a few smallies and chain pickeral. Couldn't be happier with the performance of this rod... Like a rod double or triple the price.

"My favourite Streamside rod!"

|

ST1007-3

This is an awesome rod. Love the Action and everything about it. Allows you to cast very far with minimal effort. I also love the flex it has when dealing with larger fish! Cheers

"New Favourite Rod"

|

ST1007-3

This 10', 7wt rod is my new favorite 7wt. It is very lightweight but handles an 8wt line and large flies very comfortably. It's almost like two rods in one, a casting rod and a fish fighting rod. The top half bends and flexes gracefully to load and hit targets close in or zing out seventy feet of line with two false casts. Yet, the bottom half of the rod has backbone to wear out good sized fish quickly if using heavy tippet. This 10 ft Streamside rod is really a pleasure to fish, my Sage XP 7wt is now my backup and may be on eBay soon.

"Awesome Rod"

|

ST1007-3

The Streamside tranquility Stillwater is a fantastic rod with much more back bone for those long casts then earlier models. (i can see why it is a still water rod) The rod is fairly light and pretty durable considering it has with stood all the nose dives its taken into the river bank while Ive been exiting a river tired and wet.Cant say enough about the rod, will be buying another one for steel head in the near future!

"Outstanding Rod"

|

ST1007-3

The Streamside Tranquility Stillwater is an amazing rod. It is light weight, yet has the back bone to allow for long smooth casts. This rod has the power you need to drive the line right where you need it. It is extremely sensitive allowing you to feel even the lightest takes of a curious fish. I am able to fish all day without the fatigue on the old arm. Will definitely be purchasing more Streamside rods in the future.

"Good sensitivity"

|

ST1006-4

- Very light, good sensitivity and a great casting rod for general use

- Backbone becomes an issue with DI 6's and 7's and weighted lines but only for long casts, that said, need to make long casts in still water

- Recommend adding a much larger guide (closest to the reel) – the guide is far too small and is taking a lot of distance out of the cast