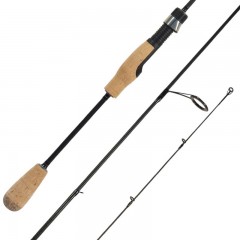 Predator Spinning
Introducing our Streamside® Predator™ freshwater rod series. These rods are both well designed and well built to bring out the best of each rod. From grade AAA Portuguese cork for the perfect grip to a fast action tip that lets you feel the bite. No matter what fish you're after, we've got a Streamside® Predator™ to help catch it. Built sensitive enough to feel that little Perch bite yet strong enough to reel in that prize winning large-mouth Bass.
Streamside
Fast action
High grade AAA Portuguese cork
Stainless steel hood and graphite reel seat
High modulus IM7 and IM8 graphite blank
Ergonomically designed blank handle for stronger rods with actions that cast with extreme smoothness
Balanced extended blank handle allows for greater efficiency and comfort
Blank through handle for increased strength and higher sensitivity
ALOX Guides
Specifications
Stock #
LENGTH
POWER
LBS
LURE/OZ
PCS
MSRP
SPF-562H
5'6"
HEAVY
15-30
3/4-1 ¾
2
$100.00
SPF-602MH
6'0"
MED-HEAVY
10-25
1/2-1
2
$100.00
SPF-661MH
6'6"
MED-HEAVY
8-17
3/16-1
1
$100.00
SPF-662L
6'6"
LIGHT
4-8
1/16-5/16
2
$100.00
SPF-662M
6'6"
MEDIUM
4-12
1/8-3/4
2
$100.00
SPF-701MH
7'0"
MEDI-HEAVY
8-17
3/16-1
1
$115.20
SPF-702M
7'0"
MEDIUM
4-12
1/8-3/4
2
$113.40
Other Freshwater Rods.
Reviews
Add Review
"Gotta have one in the boat"

|

SPF-701MH

Finally a rod that combines strenght and sensitivity. The best alternative to a baitcast rod for those who are not comfortable using a baitcast reel. It don't matter if you're trolling for walleye, casting for pike, that rod does the job better than anything i've seen so far.

"Sensitive and Strong!!"

|

SPF-662M

Was very pleased with the way this rod handled the Pike we got into. Rod showed more power that expected on a medium action but still have wicked sensitivity with the blank through handle !! Could feel every vibration on the lure and every weed!!. Will be adding more models to my collection soon!!

"Off to a WICKED start..."

|

SPF-701MH

With my first tournament coming up I needed a new rod added to my collection. Having success with other Streamside products the last couple of months I decided to give the Predator 7MH a go as my soft plastic rod, specifically wacky rigs for this tournament. The tournament was yesterday and I was very very impressed! This rod stood up to some big hook sets, allowed me to handle feisty smallies with ease and I was able to cast with precision and distance. I couldn't get over how comfortable I felt with it right away and will be using it as my everyday rod going forward. Thank you!

"Pro Staff"

|

SPF-661MH

I am new to Streamside Predator rods and I have to say I am impressed with the sensitivity of the rods with its fast tip, fuji guides and IM8 graphite. I have used them in 3 tournaments and I am very happy with the preformance and feel of the rods.I have had a few guided trips and my clientel were also impressed. I suggest you give these rods a try they are reasonable priced and out perform other more expensive rods.

"Predator rods on the hunt"

|

SPF-702M

After trying this 7' predator rods, I knew I needed more to compliment it in the 6'6" range. Such a great rod and worth every penny... So sensitive to feel the strike but lots of backbone to get those fish out of the cover and get them in the net.

"Love this rod!"

|

SPF-702M

Having a good rod really helped when casting small light lures and shortly after my 3rd cast I hooked in to a nice brown trout that fought hard and jumped all over the place which I love to see. The 7ft Streamside Predator rod was perfect for this and by the 3rd trout I was in love with the rod since it handled every fish perfectly and with medi-light 7ft Predator you can feel every twist, turn, jump and hit of the fish on the other end. It is good for setting the hook which is especially important with trout because of their rock hard mouths unlike pike and walleye. Using the 7ft streamside rod doubled the fun of every fight and made it way easier to play out the fish so you don't have it flipping and flopping all over the dock/boat. The Predator rod is made with AAA Portuguese cork that is designed to fit in your palm just right which helps when throwing 50-500 casts in a day. The design of the cork mixed with the spilt grip makes for a comfortable casting advantage.

"amazing rod"

|

SPF-701MH

just started bass fishing 4yrs ago.. so i ran right into the big name and big price st croix rods.. when i became part of the streamside pro staff(thought for stream fishin mostly) they introduced me to the predator line .. i took a few of these rods and the last two months have been puttin them to the test on big eyes and bass.. light rod , very strong and a great feeling handle.. i will put it on the line quality wise right best the st croix.. only benefit the predator gives u is price. i can get 3 predators for one st croix. that pretty much says it all right there..

"Sensitive and light"

|

SPF-662L

I use my 6'6 light rod for pitching 1/8 oz jigs to walleyes. Excellent sensitivity, maybe a bit soft but it's got the power to drive the hook home. I pair this with a 10 sized reel for a nice light setup. It's my only light setup and have no need to change it up.

"high quality rods!"

|

SPF-701MH

I was very impressed with how sensitive these rods were. It was very easy to be able to tell the difference between very similar bottom substrates such as sand and fine, fine pebble gravel; even when fishing 20-30 feet down using only a ¼ ounce football head. When I did hook into a fish, this rod loaded great and had good back bone. Over all I just mainly love the way this rod fits in your hand, the AAA grade cork is formed in a very ergonomic and efficient manner. When you pick it up, you crave fishing. I can't wait to get back out on the water with them, and for a fair price; I'm sure I'll be picking up more soon, as i highly recomend them to anyone looking for a high quality rod. Thanks Streamside

"I rocked Walleye all afternoon!"

|

SPF-702M

This rod without a doubt is one of the best spinning rods on the market. Why do I say this? First the overall appearance of the rod, a nice rich dark burgundy finish, the triple A cork handle has virtually no filler component, it uses SIC guides, which I consider to be the best on the market, and finally the through handle blank increases sensitivity to an unbelievable level. I took this rod out for some finicky Walleye and it didn't disappoint at all. In fact the cast ability of the rod is second to none and the sensitivity in my opinion is better than the more expensive brand of rods. I rocked Walleye all afternoon.

A co-worker, Marcel DeVeigne, also took the rod up to northern Manitoba to fish Paint Lake for big Pike. He fished this rod for a solid three days straight catching numerous Pike from 27 inches up to a 41 inch monster. He could not believe how quickly he landed the fish. "It was absolutely awesome fishing with a quality rod that made my trip" he said.

There was one last test I wanted to do to this rod and that was to point load it on the water. The best way to describe this is this, when an angler gets a snag what usually happens is they jerk back on the rod to try and dislodge the snag. When a person does this they put an extreme amount of pressure at one point of the rod, usually between the second and third guide from the tip, and the tip breaks. So with the Predator rod in hand I went out to deliberately try and break the rod. I must have lost $30.00 worth of jigs doing this but I can tell you the rod did not break and I was cranking it with all the strength I had.

The Predator series of rods are top notch and they are extremely affordable. I would highly recommend these rod to anyone.