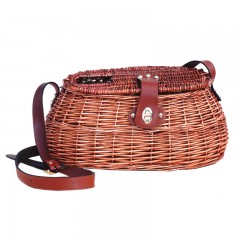 Willow Creel with Strap
Our Streamside® Willow Creel with Strap offers complete ventialtion ensuring your catch stays fresh while you search for another. The creel is hand crafted and features an adjustable leather strap which can be set to your size for easy transportation.
Streamside
Dimensions: 16" x 7" x 7"
Willow style
Hand crafted willow creel
Adjustable leather carrying strap
Specifications
Other Bags & Creels.
Reviews
Add Review
"fisherman"

|

400

I bought this creel at the local Sail / Le baron store as a gift to an old freind. (His long time creel had finally bought the biscuit!) Got the creel for $50. The first day of use, with one fish in it (about a pound) one of the two pins attaching the strap to the creel pulled out, and the little patch inside, covering the pointy prongs of the pins easily fell off. Dissapointing. makes me wonder hw long it'll last.. Overall the creel seems well woven. But the straps & "leather work" (cheap thin vynil more like!) need some serious attention. paul