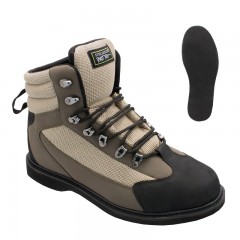 Wading Boots with Felt Sole - Spirit
Explore shallow streams and deep pools with confidence in our new Streamside Spirit Felt Sole Wading Boots. Made with a tough water resistant leather and full Goodyear stitching for long lasting performance. The boots also feature reinfroced toe and heel wrap, padded ankle support and a contoured speed lace system.
Streamside
Full Goodyear stitching for solid performance
Abrasion/ water resistant synthetic leather with rugged K068 nylon upper
Reinforced toe and heel wraps
Padded ankle collar improves support
10 mm (3/8") tough density felt sole
Contoured speed lace system
Specifications
Stock #
SIZE
MSRP
5600F-10
10
$171.00
5600F-11
11
$171.00
5600F-12
12
$171.00
5600F-13
13
$171.00
5600F-14
14
$171.00
5600F-15
15
$171.00
5600F-7
7
$171.00
5600F-8
8
$171.00
5600F-9
9
$171.00
Other Wading boots.
Reviews
Add Review
"Spirit felt wading boots"

|

5600F-7

Purchased a pair And went right to the river. These boots are excellent and a great value for the money. The felt bottoms stick to the rocks. The boots a comfortable and looking forward to many enjoyable days in the river.

"Best in comfort"

|

5600F-7

You won't believe how comfortable these are until you try them yourself. I hike for hours in my size 10's and if the area I'm fishing is producing, I'll stand for hours too. These boots are more than comfortable enough to satisfy anyone! Cheers!