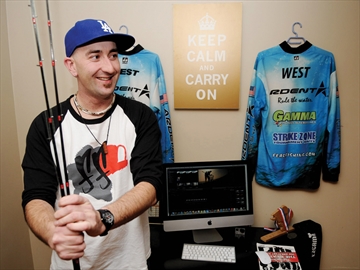 PORT HOPE -- Ian West's fishing career has had its share of ups and downs since he first cast a line in the Ganaraska River nearly 20 years ago.
The Port Hope native was raised at the Ganny. He was frequently spotted with a rod in hand and his grandmother nearby, because as he said, she was the driving force behind his early days of fishing.
"She really pushed everyone to take me fishing," he said. "She was a firm believer in living the dream. Even if you only had $10 in your pocket, as long as you were living your dream, she was happy."
As Mr. West's biggest supporter, his grandmother spent countless hours watching him cast from Port Hope's shore, a boat or wherever he could set up camp in hopes of catching a bite.
"I spent more time walking to that river and having my dad chase me down on school nights, because I was busy fishing," he said.
Looking back now, he didn't realize how sick his grandmother was during that time. Just before his Grade 8 graduation, she died, losing her quiet battle with cancer. It was Mr. West's first real heartbreak, but it pushed him towards doing what he knew would make his grandmother proud: following his dream.
Fast forward nearly two decades and that 13 year old is now 32. He still lives in his childhood home, although he now owns it, and continues to fish. But what was once a hobby is now a full-fledged lifestyle -- he's endorsed and sponsored by numerous companies, has more fishing rods than most golfers have clubs and he's competed in hundreds of tournaments across the province.
To win a tournament, fishermen are required to catch the largest five fish they can. Whatever two-man team has the largest haul wins.

"Basically, you need the five biggest bass you've ever caught," he said. "All in one weekend.
"I've fished hundreds of tournaments, and I've only won one. It's next to impossible to win a tournament ... It's a momentous occasion when you win."
In May 2012, he was told by doctors he may never experience that feeling again.
During a time when his fishing career started taking off, Mr. West was involved in a serious workplace accident that left him with a permanent partial loss of feeling in his left hand -- or as he calls it, his rod hand. He thought his fishing career was over.
"I was told I would never fish again," he said.
He pushed through the dark period in his life and overcame the near-crippling injury. He was back on the water, albeit with a cast on his hand that he kept secret from fellow fishermen, and was starting a new life. He was engaged and had a son who was developing an interest in the sport, just like his old man.
Then on one evening in 2014, he, his fiancee and son were heading out to dinner when he decided to take a quick look in his rod lockers outside his Port Hope home. The lockers' doors were open and when he reached inside it was empty.
Someone had taken $12,000 worth of his fishing equipment.
Mr. West immediately started thinking about who it could've been.
"I know whoever took it got in the right locker," he said.
He received $10,000 from the insurance company, but police have yet to lay charges related to the theft. What made the situation worse was Mr. West was scheduled for a tournament two days later.
Now, Mr. West has since restocked his lockers and aimed his sights at the Fishing League Worldwide (FLW) Canadian Championships on Sept 18, 19 and 20 in Ottawa. This is the first time the FLW has held a tournament in Canada. To put it in perspective, the FLW is to fishing is what the NFL is to football, Mr. West explained.
"It could change two people's lives," he said. "Whoever wins this is going to be the biggest news in Canadian bass fishing."
Winning the tournament will give two Canuck fishermen a chance to compete down south in another FLW tournament, with a grand prize worth $95,000 including a bass ranger boat. The winners of that tournament will then get the chance to compete in another tournament with a grand prize of $500,000.
Win or lose, it doesn't matter to Mr. West, because he knows having the opportunity to compete in an FLW tournament is, as his grandmother would say, "a dream in itself."