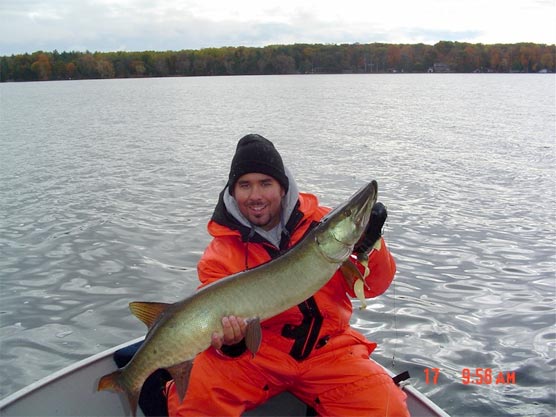 It's true – you can catch big muskies at any time of year – however, autumn is a magical time for most anglers and is the period where the most serious trophy hunters venture out in search of old esox.
As the water begins to cool and the pleasure boaters slowly begin storing their boats for winter, muskies can be found scattered in both deep and shallow waters. Here are a few tricks to help you boat a muskie this fall.

Open Water – Although many new muskie anglers always associate muskies to weeds, these fish do roam in deeper water. Note though that just because the water is deep, does not guarantee that the fish will be on the bottom. Muskies will chase schools of baitfish suspended in deeper water. And these open water fish can be caught by using a variety of methods, from trolling crankbaits, casting jerkbaits, or jigging large plastics.

Weeds – Many anglers fish the same way year-round. You can frequently contact fish in shallow water, even in the fall. Stay away from old dying weedbeds and areas that lack oxygen, which makes if difficult for fish to live there. Green weeds are the key to shallow water fall muskie angling. Fresh weeds are a hiding place for bait, and muskies will not be too far away. Weedbeds that are also located in close proximity to deep water are prime areas for the shallow water angler.

River/Creek Mouths – I have yet to uncover a lake or river system that didn't have great muskie angling in and around a creek or river mouth. Try fishing a color change in the water, where stained water meets clearer water. If there is one, the fish will often be holding close by. Some baitfish spawn in creeks during the fall and loads of food means loads of muskies.

Rocky Points – Rocks can be very underrated when it comes to structure. Rocky points can become fish magnets, especially during the fall, and muskies will use them as ambush points as they feed actively on bait such as ciscos.

While muskies are often caught in summer holding areas, likelarge weed flats in shallow water, I prefer to fish in deeper water. I position my boat in shallow water and cast the reverse of what I would in the summer. I like to work the whole water column as muskies will cruise open water in search for food. They can be caught just below the surface, suspended mid-depth and close to the bottom, so a variety of lures and techniques are required to figure out where they are and what they want to eat.