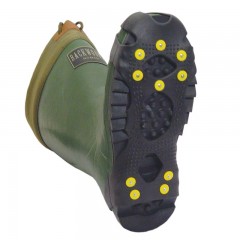 Non-Slip Ice Cleats
Compac® Non-Slip ice cleats are lightweight and versatile making them perfect for ice fishing, jogging or anywhere you need maximum grip on ice or snow.
Compac
Convinient one piece construction with no straps or buckles
Easy to put on, take off or adjust
Fits over any type of footwear
8 ultra spike cleats that offer 360 degree grip on ice and snow
Specially formulated to retain its elasticity up to -40
Specifications
Stock #
SIZE
MSRP
CR4-L
L
$26.67
CR4-M
M
$26.67
CR4-XL
XL
$26.67
Other Bells, Cleats & Claws.
Reviews
Add Review
There are no reviews for this product. be the first one!