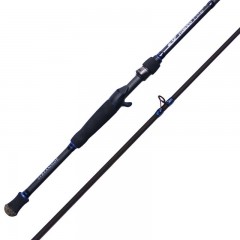 Predator Elite Baitcast
Streamside
High modulus IM8 carbon
Blank through handle for increased sensitivity
Titanium oxide guides with stainless steel frame
Non-slip, shock absorbing EVA handle with cork butt for added durability
Specifications
Stock #
LENGTH
POWER
LBS
LURE/OZ
PCS
MSRP
SBC-6081M
6'8"
MEDIUM
8-14
1/8-1/2
1
$120.00
SBC-6101M
6'10"
MEDIUM
8-17
1/4-5/8
1
$120.00
SBC-6101MH
6'10"
MED-HEAVY
10-20
1/2-1 ¼
1
$120.00
SBC-7011MH
7'1"
MED-HEAVY
10-20
1/2-1 ¼
1
$120.00
SBC-7011H
7'1"
HEAVY
12-25
5/8-1 ½
1
$120.00
SBC-7012H
7'1"
HEAVY
12-25
5/8-1 ½
2
$120.00
SBC-7031MH
7'3"
MED-HEAVY
12-25
5/8-1 ½
1
$120.00
SBC-7031H
7'3"
HEAVY
10-20
1/2-1 ¼
1
$120.00
SBC-7061H
7'6"
HEAVY
12-25
5/8-1 ½
1
$120.00
Other Freshwater Rods.
Reviews
Add Review
"Well worth the price"

|

SBC-7011MH

Ihave the exact same rod in a much higher priced rod that Iuse for top water applications. When I received the rod I put the same reel that use on the higher priced rod and the Streamside Predator Elite felt the same as the higher priced rod. Couldn't believe it, just how similar they were. Used it for a season and since then, have sold all my other rods at swap meets and to co workers. Just can't seem to beat the Streamside rods, have the sensitivity you are looking for as well as the strenth to pull in that big one. As well, you can't beat the price for a rod like one of the Predator Elites.

"best rod i own"

|

SBC-6081M

Since i started using this rod all my other rods went in yard sales, best bass rod i every used.

"very nice"

|

SBC-6081M

i purchased a predator spinning rod about 5 years ago for 69.00 buck. I showed my buddies and they were floored, a rod of that quality for that price. They all went out and bought them. Now the elite series comes out and wow.. there is absolutely no bought in my mind its the best rod, dolor for dolor, that you well ever buy.

"Love it"

|

SBC-7061H

No need to spend more, I bought 2 from the Toronto Fishing show las Feb From the Emery Booth, I fish competitively and have many expensive rods. Truth is this has the same feel as a $200 rod & does the same job. Will buy a couple more for next year.