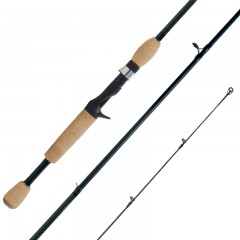 Predator Baitcast Fishing Rods
Introducing our Streamside® Predator™ freshwater rod series. These rods are both well designed and well built to bring out the best of each rod. From high modulus graphite for quality and a see-through blank for greater sensitivity to a fast action tip that lets you feel the bite and ALOX guides to ensure you reel it in. No matter what fish you''re after, we''ve got a Streamside® Predator™ to help catch it. Built sensitive enough to feel that little Perch bite yet strong enough to reel in that prize winning large-mouth Bass.
Streamside - SPB Series - Features
Fast action
Dense, non slip, shock absorbing cork handle
Stainless steel hood and graphite reel seat
High modulus IM7 graphite blank
ALOX Guides
Specifications
Stock #
LENGTH
POWER
LBS
LURE/OZ
GUIDES
PCS
MSRP
SPB-661M
6'6
MEDIUM
8-17
1/4-3/8
9+TIP
1
$124.00
SPB-762M
7'6
MEDIUM
6-12
1/8-1/2
9+TIP
2
$126.00
Other Freshwater Rods.
Reviews
Add Review
"A rod you can trust!"

|

SPB-762M

i have had some great success using the Streamside Predator Series rods. they perform amazing in those key bass tournament moments. From flippin' at docks, chucking texas rigs into the thick weeds, to ripping cranks, spinner baits, buzz baits.... horsing that fish out and controlling that prize fish is made easy with these rods. Great backbone with a well balanced out tip makes casting the bait caster reels much easier to hit your target with the "birds nest, backlash". Often anglers new to bait casters have issues with the backlash and learning how to set your reel to the proper settings. if that is you. give this rod a go.

"AWESOME PRODUCT"

|

SPB-661M

This is one of my best rod that I have in the boat. Use it for virtually anything species (bass, pike, walleye). For a medium action rod its got lots of back bone. Not issues pulling those largemouth or pike out of those weeds! Would recommend this rod to any angler. And look at the price you cant get any better then that!!!!!!!!!!!!!!! till next time

"Good thing i bought 2 of them"

|

SPB-762M

I'm doing everything with this rod, from pike to trolling for pickerel, i even tried a little bottom fishing for fat channel catfish. Simply incredible, i love it !!!

"Good thing i bought 2 of them"

|

SPB-762M

So far i've done everything with this rod, from pike to trolling pickerel, even tried a little bottom fishing for fat channel catfish. This rod does everything, it's light , sensitive and has great power...Love it !!!

"AWESOME!!"

|

SPB-661M

These rods are the bomb!! The Predator Series is simply amazing. It's so light that even if you cast an entire day, you'll never feel fatigue. The back bone is just insane. I caught big pikes with these and never felt its weakness. Try em' out today , you will not forget the experience.

"Great Rod!"

|

SPB-661M

Started using this rod late summer throwing topwaters and Sliders... Couldn't be happier with its performance ... My goto bait casting rod from now on.

"Amazing rod!"

|

SPB-661M

Amazing rod. I have been using this rod all summer fishing for bass an doing tournaments and it has been super good! I have the 7.6 that I throw spinner baits on and it's hard to put this rod down to change over to my flipping stick. I absolutely love this rod and I am sure you will to! Give it a try!