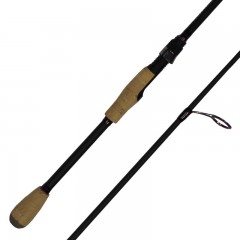 Black widow ladies
Streamside
High white graphite module
Extreme exposure from'abu allows more contact with the strand and sensitivity
High density cork tip
Double A natural optimal grip on cork
Stainless steel holographic images ALOX guide ring inserts
Specifications
Stock #
LONG
POWER
LBS
LURE/OZ
PCS
MSRP
BW-602M
6'0"
MEDIUM
4-12
1/8-3/4
2
$76.50
BW-662M
6'6"
MEDIUM
4-12
1/8-3/4
2
$76.50
BW-662MH
6'6"
MEDIUM- HEAVY
8-17
3/16-1
2
$76.50
Other Freshwater Rods.
Reviews
Add Review
"Ladies must have!!"

|

BW-602M

The ladies black widow is a must have for female anglers! It's a great rod all around, perfect sensitivity with enough back bone to reel in some hogs! I absolutely love my black widow, I've landed some beauty fish with it and won't leave hit the lake without it!