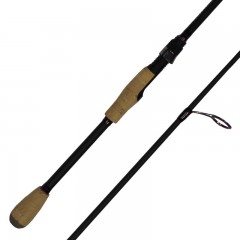 Black widow ladies
Streamside
High white graphite module
Extreme exposure from'abu allows more contact with the strand and sensitivity
High density cork tip
Double A natural optimal grip on cork
Stainless steel holographic images ALOX guide ring inserts
Specifications
Stock #
LONG
POWER
LBS
LURE/OZ
PCS
MSRP
BW-602M
6'0"
MEDIUM
4-12
1/8-3/4
2
$98.00
BW-662M
6'6"
MEDIUM
4-12
1/8-3/4
2
$98.00
BW-662MH
6'6"
MEDIUM- HEAVY
8-17
3/16-1
2
$98.00
BW-702M
7'0"
MEDIUM
4-12
1/8-3/4
2
$98.00
Other Freshwater Rods.
Reviews
Add Review
"Light weight and powerful "

|

BW-602M

Purchased this rod for my daughter to use for her kinda everything rod, well first of all the colour is amazing she absolutely loves it, and paired it with the Predator Elite 20 Reel wow what an amazing combo she is 12 and can cast that thing a mile. Now my wife want one lol, I think were turning into a streameside family:) they have us hooked.

"Ladies must have!!"

|

BW-602M

The ladies black widow is a must have for female anglers! It's a great rod all around, perfect sensitivity with enough back bone to reel in some hogs! I absolutely love my black widow, I've landed some beauty fish with it and won't leave hit the lake without it!