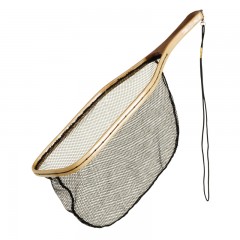 Catch & Release Net
Scoop up your big catch with our Streamside® Wooden Catch and Release Style.The handcrafted net is made with a teardrop shaped laminated wooden frame. Each net features a non-abrasive mesh to ensure no damage will be done to the fish.
Streamside
Wood frame
Soft, non abraisive mesh that won't harm fish
Handcrafted, rectangular style
Clip-on lanyard
Specifications
Stock #
DIMENSIONS
MSRP
721
15" X 7" X 9"
-
Other Landing Nets.
Reviews
Add Review
"Must have for fishing Streamside"

|

721

These little nets are a must have for fly fishing brooks and streams... They clip easily to your back and can land safely anything from the smallest brook trout up too 3 pound shad. A must have accessory that will add enjoyment to your fishing and helps you release your catch unharmed.

"Right choice"

|

721

Christened this net with a 15" brown trout! Great net. Cheers!