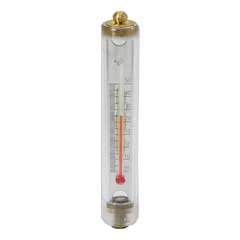 Thermometer & Depth Gauge
Ever wonder how cold the water is at the bottom of the lake? Find out with our Compac® Thermometer and Depth Gauge. Simply tie the gauge to a rope and lower to the bottom, then return to the surface and read the temperature. Works to a maximum depth of 150 feet.
Compac
Max depth: 150 ft
Scientifically engineered that it works on the basis of water pressure
Simply tie and lower to bottom, return to surface and read
Specifications
Other Scales.
Reviews
Add Review
There are no reviews for this product. be the first one!