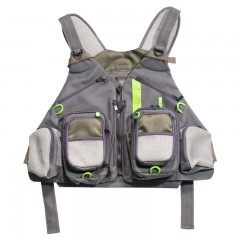 Spirit™ Fishing Vest
Our Streamside Spirit fishing vest surpasses all others with 8 zippered pockets and 2 fly storage pockets with removable foam inserts. Padded shoulder straps and light nylon fabric with mesh ventilation keep your comfortable and cool on the water. Also features 2 retractable cords for easy access to fishing tools.
Streamside
Nylon fabric light material with mesh ventilation ensuring comfort throughout the day
8 zippered pockets on the front
2 fly storage pockets with removable foam
2 retractable spiral cords for easy access to fishing tools
Adjustable, padded shoulder straps
Specifications
Stock #
SIZE
MSRP
665-ML
M/L
-
665-X2X
XL/2XL
-
Other Fishing Vests.
Reviews
Add Review
"AMPLE STORAGE"

|

665-ML

Tons of storage in this vest for whatever you may need while wading down the river for a day of fishing. Aside from the storage, I was extremely impressed with the comfort and adjustability. A+ product

"Everything I was looking for!"

|

665-ML

I did extensive research before I decided to purchase this vest. I had a list of must have features like a rod holder, fly storage and lots of pockets so I could be well equipped when out on the streams and rivers out west but not be too bulky - this vest has it all. I'm a 5'6" woman and most vests are sold as "one size" and literally I would swim in them. This vest I could purchase in a M/L and it actually fits when adjusted whether I wear a jacket or not. The storage is awesome and the color and styling is spot on. The pictures do not do this vest justice and I am hard pressed to find any part of it that needs to be improved. Lots of storage, great quality and an excellent value. I would highly recommend this to anyone. I love this vest.

"STORAGE"

|

665-ML

Being a gear junkie like many other fishermen, I usually find the problem of having insufficient storage in my vest, but not with this one. Plus the price is unbeatable as my dads fish pond vest is double the price and is lacking in many areas where this vest excels

"Best vest and price!"

|

665-ML

Just bought this vest and it is the best i've seen in the market. And it's only $79.00!!!!!!!!!!!! Absolutely amazing! the pockets are amazing for fly anglers especially because the front compact pockets open up to be built in fly boxes. Great Job Streamside!

"Multi-functional and comprehensive"

|

665-ML

Compared with other vests, this one fits the bill for angling from my kayak or float tube perfectly. Cheers!

"Perfect!!!!"

|

665-ML

This is the best fly vest I have seen on the market. It has tonnes of places to store your gadgets and its pockets are very well thought out. Definitely the perfect fly vest for my fishing.

"Spirit Vest"

|

665-ML

Great vest. Large enough for all your cargo needs yet streamlined for ease of movement and functionality. Comfy too

"The best vest on the river"

|

665-ML

This is one of the best fly vest's that I have had the pleasure of owning.. with all the little extras added on this vest it is both light and breathable and best of all it is adjustable in every possible direction so that one vest will fit pretty much any sized user big or small.