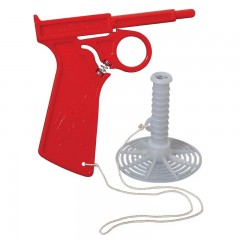 Fly Shooter
Fly shooter
Dimensions: 22" x 15" x 5"
Designed to shoot its swatter only
Easier to use, more effective and less messy than a fly swatter
Made of durable polyethylene and polypropylene
Specifications
Other Miscellaneous Accessories.
Reviews
Add Review
"MR."

|

3680

No more frustration. This is the best fly swatter ever. Wait for the fly (or insect) to settle on a reasonably solid surface, aim and fire. I've never known it to fail. It is so, so satisfying. I just bought a stack of them for Christmas gifts.