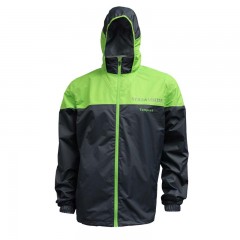 Tempest Rain Jacket
Streamside
100% woven polyester
Waterproof, windproof and breathable
Polyester taffeta lining
Push lock anti-slip zipper
2 front zippered pockets
Soft fleece inside collar
Fold away hood
Elastic drawstring at hem
Specifications
Stock #
SIZE
MSRP
T2CH-L
L
$126.00
T2CH-M
M
-
T2CH-XL
XL
$126.00
T2CH-XXL
XXL
$126.00
Other Jackets & Shirts.
Reviews
Add Review
"Stay Dry"

|

T2CH-M

I wore this jacket for 2 days straight during a fishing tournament. The rain never let up But I stayed dry and warm from the wind.

"Best Rain Jacket."

|

T2CH-M

I got this jacket around the start of summer and i dont regret it. I fish in lots of cold weather and rainy days. This jacket is a must have for me. It cuts wind good,keeps me dry and it looks good!

"Sweet Rain Jacket"

|

T2CH-M

A couple of months ago I recieved the Tempest Rain Jacket... Gotta say it perfectly fills a need I had for a quality rain jacket. I have now had cause to wear this fishing several times both on the salt and in freshwater. It keeps me dry and comfortable which is what is needed from rai wear. The first time I wore it was the first smallmouth tournament of our season in Nova Scotia... It kept my mind on fishing and off the weather all day which was needed as it was a tough fish where I got two big bites late to take first place as well as grabbing the award for lunker bass and the side pool for lunker pickeral... The jacket definitely played a role in my success and th fact that it looks good and you can wear it anywhere is an added bonus.