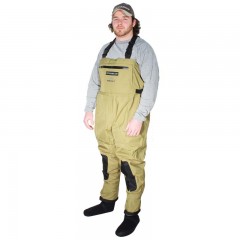 Premax Breathable Waders
Wherever your fishing adventure takes you, our brand new Streamside® Premax™ Breathable Waders are built for you. Bolstered by the most feature rich mix, the Premax waders include 4,000g/m²/day breathable material, 10,000mm waterproof rating, reinforced knee patches, waterproof front zippered pocket and fleece lined hand warmers.
Streamside
Waterproof rating: 10,000mm/day
Front pocket with waterproof zipper
Fleece lined hand warmer pocket
Convenient wading belt
Reinforced knee patches for improved durability
Adjustable gravel guard leg cuffs
Textured tape seal on neoprene foot for added grip
Breathable rating: 4,000g/m2/day
Specifications
Stock #
SIZE
MSRP
2300B-3XL
3X LARGE
-
2300B-L
LARGE
-
2300B-M
MEDIUM
-
2300B-S
SMALL
-
2300B-XL
EXTRA LARGE
-
2300B-XXL
2X LARGE
-
Other Breathable Waders.
Reviews
Add Review
"Waders"

|

2300B-S

Je possède un modèle depuis 2 saison pour la pêche en rivière et l'eau pénètre par les coutures en bas des genou utilisation 4 a 6 fois par saison.

"Great value and comfort"

|

2300B-XXL

I use these waders primarily for salmon fishing on the Exploits River. The water is fast and cold and these waders hold up against anything you can throw at them. Durable and comfortable. I am 6ft 250lbs and the XXL fit really nice. My streamside boots also have held up nicely as we have to walk a rough trail on the way down to the pool.Love the waterproof front pocket and fleece handwarmers for those cold mornings. Very happy with my purchase.

"Love these waders!"

|

2300B-S

I have been using these waders all summer, and I'm liking them very much! They are a very good quality breathable wader for a very reasonable price. You can go all day in them and not feel worn down as you would while wearing traditional waders. It's great how they come up pretty much to your armpits, so there are no surprise swampings when you wade deep (you know, like when on some waders you don't realize that though the front bib comes up pretty high, they don't go nearly as high on the back and/or under the armpits). As a bonus, they have a waterproof zippered front pocket which is quite handy to store your keys with remote or your smartphone. The knees have extra protection from punctures, which have saved me from a few leaks already! Since mid-June I have been flyfishing on roughly thirty outings @ approximatly five hours each, and still no issues what-so-ever. I give these waders two thumbs up!