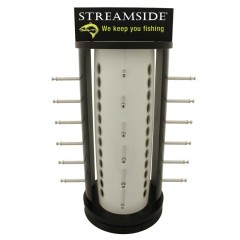 Sunglasses Display - 24 pairs
Our new stylish Streamside® Sunglasses Display holds 24 pairs of sunglasses. This unit has many location options as it takes up very little room, yet is appealing enough to catch the eye of your customers. This stable display includes a mirror on the top, 24 aluminum display pegs and is mounted on a turn table. This display unit is free when you purchase 24 pairs of our new sunglasses.
Streamside
Includes 24 sunglasses
Sleek and space saving counter display
Mirror on top
Mounted on a smooth turn table
Specifications
Stock #
GLASSES
MSRP
SGD-24
24 Pairs
$480.00
Other Uncategorized Subcategory.
Reviews
Add Review
There are no reviews for this product. be the first one!