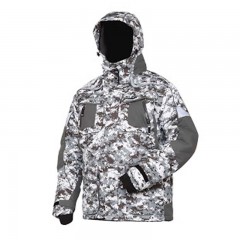 Exlporer Camo FTL Parka
The Explorer Camo Heat Float assist jacket is made of high quality, breathable and waterproof material, known as NORTEX BREATHABLE. It features reinforced elbows and shoulders. It is designed to withstand the harshest elements nature can throw at you. The Explorer 2 will keep you warm at temperatures as low as -35°F. This parka also includes Norfin HOLLOFIL + FLT Foam to keep you warm and afloat if you find yourself in an unfortunate situation. Designed for ice fishing, but it's perfectly suitable for other winter activities like snowmobiling.
Lucky john
Lining design that features improved moisture wicking technology.
YKK two-way open end zipper with protective flap.
Adjustable & removable hood.
Drawstrings to tighten waist and lower part of jacket.
Zippered handwarmer pockets.
Warm cell phone pocket.
Adjustable outer cuffs.
Reinforced shoulder and elbow areas.
Articulated sleeves with abrasion resistant elbow panels.
Reflective elements for added safety.
Taped seams.
Material: NORTEX BREATHABLE
Waterproofing: 10,000 mm
Breathability: 6,000 g/m²/24 hours
Insulation: HOLLOFIL + FLT foam
Specifications
Stock #
SIZE
MSRP
35820-L
LARGE
$530.00
35820-M
MEDIUM
$530.00
35820-S
SMALL
$530.00
35820-XL
EXTRA LARGE
$530.00
35820-XXL
EXTRA EXTRA LARGE
$530.00
35820-XXXL
3X LARGE
$530.00
Other Uncategorized Subcategory.
Reviews
Add Review
There are no reviews for this product. be the first one!