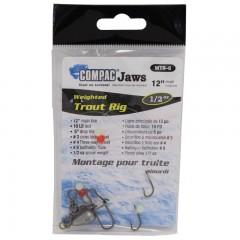 Weighted Trout Rigs
Our weighted trout rig with 1/2 oz weight, cross lock and 3-way swivel helps position bait perfectly while preventing line twist. You can customize your own rig to suit your fishing conditions.
Compac
12" main line
10 LB test
5" drop line
#3 cross lock swivel
#4 Three-way swivel
#8 Baitholder hook
1/2 oz sinker weight
Specifications
Stock #
WEIGHT
MSRP
WTR-6
1/2 OZ
$4.91
Other Walleye and Trout Rigs.
Reviews
Add Review
There are no reviews for this product. be the first one!