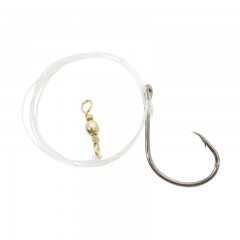 Catfish Rig
Two single 24" drop lines rigged with barrel swivel and circle hook help position bait perfectly while preventing line twist. You can customize your own rig to suit your fishing conditions. We suggest a basic rig set up of a sinker weight, plastic bead and interlock snap swivel.
Compac
40 lb test monofilament
24" length
Rigged with a circle hook and a #5 brass swivel
Specifications
Stock #
SIZE
MSRP
CFR-4/0
4/0
$3.36
CFR-5/0
5/0
$3.36
CFR-6/0
6/0
$3.36
Other Other Rigs.
Reviews
Add Review
There are no reviews for this product. be the first one!