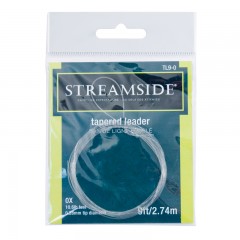 Tapered Leaders
Our Streamside® Tapered Leader is your answer when a near invisible presentation is needed to land the big fish. The leader is specially designed with a heavy long butt section for power and makes for an effortless cast.
Streamside
Provides easy transition from fly line to tippet
Specially designed with long heavy butt for turnover power
Excellent for fishing with small or mid-sized flies
Ideal for casting
Specifications
Stock #
SPECIFICATION
TIPPET DIAMETER (MM)
BUTT DIAMETER (MM)
STRENGTH RATING (LB)
MSRP
TL9-0
0X
0.279
0.64
10.63
$5.98
TL9-1
1X
0.254
0.56
9.06
$5.98
TL9-2
2X
0.229
0.56
7.79
$5.98
TL9-3
3X
0.203
0.53
6.82
$5.98
TL9-4
4X
0.178
0.53
5.35
$5.98
TL9-5
5X
0.152
0.53
4.29
$5.98
Other Fly Line & Leaders.
Reviews
Add Review
There are no reviews for this product. be the first one!