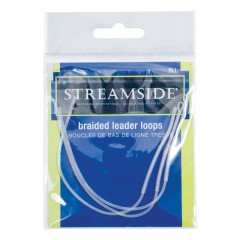 Braided Leader Loops
Our Streamside® Braided Leader Loops will save you precious fishing time. The easy to use loops simply attach to the end of your fly line, allowing you to quickly add on a leader. Loops can be used with floating or sinking fly lines and come available in 3 packs.
Streamside
Used between fly line and leader
Helps transfer power from fly line to leader resulting in longer casts and better turnover
Loop on braided leader makes it quick and effortless to change leaders when needed
Can be used with floating or sinking fly lines
Available in 50lb and 30lb, 3pc/pack
Specifications
Stock #
TYPE
LW
MSRP
BLL-30
TROUT
30
$9.16
BLL-50
SALMON
50
$9.16
Other Fly Line & Leaders.
Reviews
Add Review
"loops"

|

BLL-50

I love these things. You can easily inch worm your line into them all the way to the top of the loop. They last forever and never pull off. Great loops!

"making life a little easier"

|

BLL-30

If you are like me then for years you have been tying various knots to attach leaders to fly line.. with these new Streamside Braided Leader Loops it makes your time on the water that much more productive. More time fishing and less time sitting tying knots. Great product and very simple to use. Slide the line inside the tube section and you are ready to go.