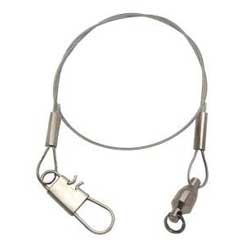 Nickel Ball Bearing Leaders
Compac® Elite series ball bearing leaders were designed to be trusted out in the water. The 30 lb test, nylon coated, stainless steel wire is attached to a stainless steel ball bearing swivel with a high quality interlock snap to prevent tangling and ensure a perfect lure presentation.
Compac
30 lbs test
Helps eliminate line twist when casting or trolling revolving spoons and spinner type lure
Nylon coated stainless steel wire
Rigged with a ball bearing swivel and an interlock snap
Metal crimpted ends
3 leaders per card
Specifications
Stock #
LENGTH
PCS
MSRP
2501
6"
3
$6.72
2502
9"
3
$6.96
2503
12"
3
$7.14
Other Ball Bearing Leaders.
Reviews
Add Review
There are no reviews for this product. be the first one!