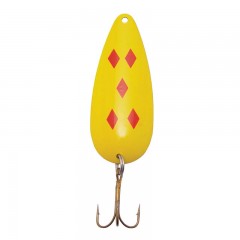 Red Diamonds
Compac
Red/Yellow
Unique wiggling/wobbling action is irresistible to panfish, trout, bass, and other gamefish.
Perfectly balanced to prevent the line from twisting or spinning.
All trophy spoons are crafted from quality metals, durable enamels, and the strongest hooks
Specifications
Stock #
SIZE
MSRP
1170C
1-1/4"
$3.51
1171C
1-3/4"
$3.90
1172C
2-1/4"
$4.49
1173C
2-3/4"
$4.74
1174C
3-1/2"
$6.22
Other Trophy Spoons.
Reviews
Add Review
There are no reviews for this product. be the first one!