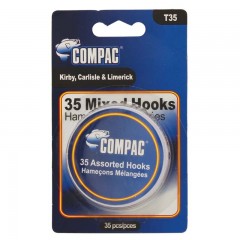 Assorted Hooks
All Compac hooks are made with the latest tempered technology to give you quality that lasts.
Compac
Assortment of Kirby, Carlisle and Limerick style hooks in a tin
Kirby: sizes 6 and 1/0
Carlisle: sizes 6 and 2
Limerick: size 3/0
Specifications
Stock #
PCS
MSRP
T35
35
$6.54
Other Specialty Hooks.
Reviews
Add Review
There are no reviews for this product. be the first one!