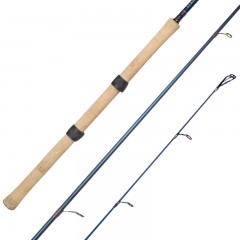 Tranquility Steelhead
Streamside
M8 white graphite
Long tapered cork handle with graphite rings
SiC guides
Action of the light
Line weight 4 to 8 lbs
Specifications
Stock #
LENGHT
ACTION
LURE/OZ
WEIGHT
MSRP
STF1152
11'6
LIGHT
1/8 - 1/3
155g
$171.00
STF1302
13'0
LIGHT
1/8 - 1/3
165g
$192.00
Other Float Rods and Salmon Rods.
Reviews
Add Review
"amazing rod"

|

STF1152

I have to say this is one of the most impressive rods I have used over the past 3 years. I have landed lots of chinook and steelies on this rod. Its taken a beating through woods and trekking through rough terrain. Even with all that, it has performed perfectly. I have just ordered a second rod but 13 feet long. Cannot believe what a bargain these rods are. Must have.

"ROD IS A MUST HAVE!"

|

STF1302

Personally my favourite float rod! The backbone and flex behind it is amazing and it really shows when fighting a fish. I am a big fan of the featherlight technology in the IM8 blank, and the guides don't freeze up in the winter as often as other rods! I highly recommend the tranquility!

"My Favorite Float Rod of all time"

|

STF1152

I love how light this rod is - I can fish for hours and hours in fast drifts and my arms never get tired. I would give this rod a 10/10. It's a must have.