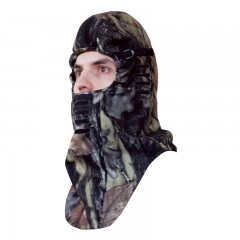 Deluxe Balaclava
The Backwoods® Deluxe Balaclava is made with waterproof and breathable material to provide hunters with the water resistance they seek. Fleece lining interior, elasticized and adjustable front openings ensure hunters are warm and comfortable. Made with a Pure Camo® pattern.
Backwoods
Waterproof and breathable exterior
Fleece lined interior for extra warmth
Elasticized and adjustable front opening
Vent slits on side and front
Pure Camo
Specifications
Stock #
SIZE
MSRP
LAVA-X
ONE SIZE FITS ALL
$38.00
Other Face Mask & Balaclavas.
Reviews
Add review
"WARM!"

|

LAVA-X

Warmest balaclava I've ever worn... Super comfortable as well!