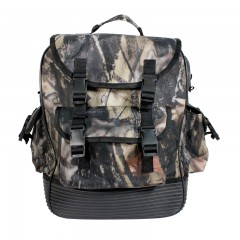 Expedition Camo Backpacks
Our new Backwoods® Pure Camo Expedition Backpacks offers superior hunting performance, along with tough durability. Each are constructed with 100% polyester and waterproof material with a ribbed EVA rubber bottom. Convenient pockets are located throughout the backpacks and padded shoulder straps give them a comfortable feel.
Backwoods - Backwoods - Super Tough Features
Waterproof, 100% polyester
Quality ribbed EVA rubber bottom
Padded shoulder straps with luggage tag
Quick release buckles
One main compartment with zipper
One small front pocket
Two side pockets
Specifications
Stock #
CAPACITY
MSRP
BPC250
25 LITRES
$104.00
Other Camo Backpacks.
Reviews
Add review
There are no reviews for this product. be the first one!