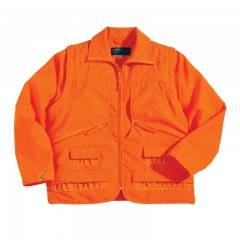 Shooter Game Vest/Jacket
Weather conditions can change rapidly. Keep up to the climate with our Backwoods® Shooter Game Vest/ Jacket. Removable sleeves allow you to change between a jacket and a vest in a few seconds. Shooter Vest/ Jacket also features quilted shoulders and four front shell pocket holders.
Backwoods
Quilted shoulders
Lined game pocket
Removable sleeves transform jacket to vest
4 front shell holder pockets
Specifications
Stock #
SIZE
MSRP
2345-L
L
-
2345-M
M
-
2345-XL
XL
-
2345-XXL
XXL
-
Other Safety Vests.
Reviews
Add review
There are no reviews for this product. be the first one!