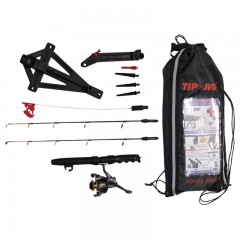 Tip N Jig
The ultimate ice fishing system that turns bites into fish! Endorsed by the host of Canadian Sportfishing® Italo Labignan. Proudly made in Canada.
Mouches neptune - Kit Includes
Reel & reel handle
Light action & medium action tips with ceramic rings
Hands free base
Sure-Lock tip up
3 anchor legs
Strike indicator
Convenient travel carrying case
Heavy action tip also available - Sold separately
Specifications
Stock #
DESCRIPTION
MSRP
TNJ1
FULL KIT
$86.42
TNJ1-RHT
HEAVY TIP
$22.59
Other Tip-Up Rigs & Spreaders.
Reviews
Add Review
There are no reviews for this product. be the first one!