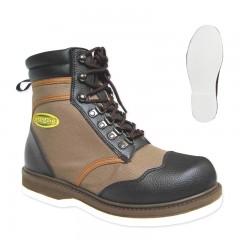 Wading Boots with Felt Sole - Adventurer
Gain extra traction with the Streamside® Adventurer Felt Sole Wading Boots. The reinforced toe and heel cap along with Goodyear stitching on the mid-sole provide extra strength and allow you to explore streams and riversides with confidence. The high performance Denier nylon ensures durability and felt sole bottom delivers trustworthy footing on slippery terrain.
Streamside
Specifications
Stock #
SIZE
MSRP
5500F-7
7
-
5500F-8
8
-
5500F-9
9
-
5500F-10
10
-
5500F-11
11
-
5500F-12
12
-
5500F-13
13
-
Other Wading boots.
Reviews
Add Review
There are no reviews for this product. be the first one!