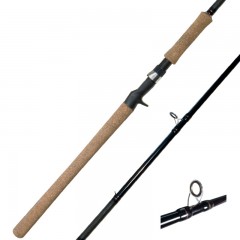 Predator Muskie Rods
Our new Streamside® Predator™ Muskie/Big Game rod series is designed, tested and built with one single purpose: to catch big fish such as Muskie, Sturgeon, Pike, Halibut, and Large Lake Trout.
Streamside - SPM Series - Features
Fast action
Dense cork non-slip shock absorbing pro handle features beveled foregrip and tapered rear grip for increased control when casting with larger lures and baits
Stainless steel hood and graphic reel seat
High modulus IM7 graphite blank rated 24 tonnage with stronger backbone performance against larger trophy fish
Double foot chrome guides
Specifications
Stock #
LENGTH
POWER
LBS
LURE/OZ
GUIDES
PCS
MSRP
SPM-761H
7'6
HEAVY
20-50
2-8
8+TIP
1
-
SPM-801H
8'0
HEAVY
20-50
2-8
9+TIP
1
$180.00
SPM-861H
8'6
HEAVY
25-70
2-8
10+TIP
1
-
Other Freshwater Rods.
Reviews
Add Review
"A Big Game Revelation!"

|

SPM-761H

Having this rod specifically designed for hunting big fish has changed my game 100%. Trolling big hard baits or casting soft plastics, it's the right rod for the job. Musky's beware! Cheers!

"Great rod"

|

SPM-761H

I have the 8.6 Musky rod that I use for both pike and muskie.. I use the longer model to get further casts in, but if I were to troll I would use the 7.6. It is a super beefy rod that has no problem throwing big baits, or crankin' big muskies and pike into the net! Another great feature about the rod is the cork knob. It is long which makes it nice and easy for figure eights boat side! Highly recommend!

"Big game"

|

SPM-761H

This rod was designed to handle big baits, that handle big fish... lots of backbone and strength in this rod to handle trolling and comfortable enough to cast if you are up to it.

"Monster rod for Monster Fish"

|

SPM-761H

I love everything about this rod... weather for musky or big saltwater fish this rod shines.... absolutely love it

"PREDATOR MUSKY BIG GAME SERIES"

|

SPM-861H

Simply the best made big game series rods on the market today! Whether it be the 7'6 or right up to the 8'6! These rods perform as expected! I enjoy all the lenghts but hold especially true to the 8'6 lenghts for musky fishing. The perfect length for precise figure 8's and an excellent balance of durability and light weight makes these rods a pleasure to use all day long with no fatigue. Price-points are great and you certainly can't beat the warranty on them either eventhough i doubt you'd ever need to . These rods are tough and i have been putting them thru the paces for the last two years in the most extreme conditions !