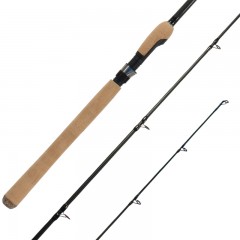 Predator Big Game Spinning Rod
Here is a rod suitable for Sturgeon and Muskie Fishing. It's tough and strong, yet sensitive. Tackle any large fish with this monster. You can feel the fish even with small bites. Can also be used for stripers and bass.Extra Heavy Duty handle covered with cork. Suitable for 15 to 30 lb line, and can handle lure weights between 3/4 up to 3 oz.
Streamside - Heavy Duty Features
Fast action
High grade AAA Portuguese cork
Stainless steel hood and graphite reel seat
High modulus IM7 and IM8 graphite blank
Ergonomically designed solid handle to absorb shock
ALOX Guides
Suitable for Muskie & Other Big Game Fish
Specifications
Stock #
LENGTH
POWER
LBS
LURE/OZ
PCS
MSRP
SPF-802MH
8'0"
MED-HEAVY
15-30
3/4-3
2
$126.00
Other Freshwater Rods.
Reviews
Add Review
"Problem solved !"

|

SPF-802MH

For years i always had a problem when it came to strurgeon fishing, rods where either tough but no sensitivity to feel the shy bites or they simply where too fragile to handle these beast. That is untill i tried the SPF-802MH, finally !!! a rod which combines both qualities: sensitivity and pure muscle...two thumbs up !

"Going Deep"

|

SPF-802MH

This rod has been ideal for deep water jigging. 3/4oz to 2oz jigs and bucktails for stripers and big smallies holding 40' and deeper. Cheers!

"Nov 3 2013"

|

SPF-802MH

In the summer of 2012 Corey Myers was our fishing guide at Frontier Fishing Lodge in the N.W.T. Over the week that we were there we had an opportunity to use one of his Streamside Predator rod. The rod felt and performed well and Corey showed us and told us the benefits of the Predator rods. Over the winter time I purchase two of the 8' Predator rods, so in July of 2013 my son and I headed back up to Frontier Lodge to try out these new rods. Corey once again was our guide and we couldn't wait to get out on the water and try them out. We used the rods mainly for jigging in water from 50' to 190' deep. It turned out to be and do every thing Corey said the rod could do. The rod was sensitive enough you could feel every bump and touch and enough backbone to set those big two oz jigs in 150' of water. The Sreamside Predator 8' is outstanding! Can hardly wait to go back up next summer and try it again.

"Owner, Cactus Hill Mechanical Sales Ltd."

|

SPF-802MH

My son in law and were fishing at Frontier Fishing Lodge in the N.W.T. Great Slave Lake. My Fenwick rod blew up so Corey Myers my guide let me use one of his Streamside Predator rods. In fact my son and law and I both used his rods as he had two along. I am at home now and will be running out to buy one imediately. We were catching and relaesing 40 to 60 fish a day and landed some 25 and 31 pound Lake Trout. It was easy with this very responcive yet sensitive rod. This is the medium to heavy rod I have been looking for ! Fantastic guide, fantastic fishing, fantastic rod. Now to find a good reel to fit this rod.

"Quality, Preformance, Durability"

|

SPF-802MH

This rod has it all! For a very reasonable price the Streamside Predator Series, 8 foot M-H rod is perfect for any fish species, but excels at tackling large fish. I could not believe the sensitivity this big game rod gave me. The ability to feel every little bump and touch is something I have not found anywhere else when it comes to targeting BIG fish. All this would mean nothing if it could not withstand the fight, but I have seen first hand what this rod can do with a 30 lb laker. If your looking for that one big game rod that will withstand the punishment, while also giving you high end performance, look no further. This is my one and only go to rod from now on!!