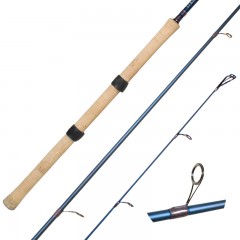 Tranquility Float Rods
New to our float rod family is the Streamside® Tranquility float rod. With all our success using Featherlight technology in our Tranquility fly rod series, we decided to try the Featherlight technology on a float rod and the Tranquility float rod was born. With the same power and backbone that you've come to love in our Streamside floats rods but with less weight. It''s like having your cake and eating it too. Imagine spending all day on the river and still having the strength to fight the big one when he attacks your bait - that''s how light it is. Power, Precision, Presentation, Streamside.
Streamside
11'6" length, 155g weight
13'0" length, 165g weight
IM8 graphite blank
Grade AAA Portuguese cork grip
SiC guides
Both 2 piece rods
Matte finish for less reflection
Featherlight Technology
Specifications
Stock #
LENGTH
ACTION
POWER
LBS
LURE/OZ
GUIDES
MSRP
STF1152
11'6
LIGHT
FAST
4-8
1/8-1/3
9+TIP
$140.00
STF1302
13'0
LIGHT
FAST
4-8
1/8-1/3
10+TIP
$160.00
Other Float Rods and Salmon Rods.
Reviews
Add Review
"Great rod for a Great price!"

|

STF1152

I have recently been using this rod for steelhead in the spring and winter. one thing i really like about this rod are the top guides. they are bigger than normal and dont freeze up nearly as fast! Not only do i get steelies on this rod, but i haul in big kings aswell. Its a light, affordable strong rod! Try it out, you won't be disapointed!

"Upgarde from Streamside Float Steelhead Special Edition Fishing Rods"

|

STF1152

This is my upgrade for Streamside Float Steelhead Special Edition Fishing Rod. Nothing but the best,this one comes with high quality hard case. First outing and i got me 10lb steelhed could not believe how it handled the fish.

"AMAZING ROD"

|

STF1152

WOW! the streamside trainquility rod is amazing i love how i am able to feel the fight of thats head shaking trout in a pool. i also like that i am able to have long drifts and am still able to get a good hook set in. i love the flex to this rod it really helps me in those situations where that trout is taking me into ice or logs i am able to horse that fish out using the strength of the rod to pull on the fishes head moving it a different way. over all this rod is absolutly AMAZING.

"impressive"

|

STF1152

i have to say im pretty impressed with this rod... for it being the lightest rod on the market today in its class this rod is an excellent river rod. great back bone and soft tip for great action. casts with ease. nice choice in colour a blank as well. an all round fantastic rod

"13 steelhead rod"

|

STF1152

Dang! what a great rod. I have 6-7 rods. And like the previous reviewer, I can't put the thing down. Give it a try. You'll like the quality of this rod.

"Very Impressed"

|

STF1152

These rods are fantastic! I have been using it since the fall of 2011 for steelhead and have not been able to pick up my other rods! Love the bend in this rod and how light it is truly amazes me. The one thing I really liked about this rod is the guides, almost every steelheader will tell you when it gets cold you have a lot of problems with guides freezing, but with this rod I haven't encountered such a thing, the top guide is big enough I never get ice build up, now that's a great feature guys!