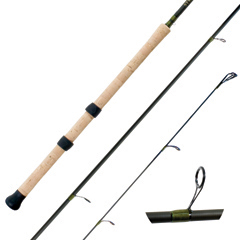 Float Steelhead - Special Edition
Our new float rod series is a legacy to all the anglers who have developed the tradition of salmon and steelhead fishing with floats over the years. We have designed our rods with power and backbone unparalleled in its league because you never know when you're going to get a fish that will give you the fight of your life.
Streamside
SiC (silicone carbide) guides
IM8 graphite blank
Specially designed with a long fore grip and short rear grip
Extended tapered cork handle with graphite rings
Specifications
Stock #
LENGTH
ACTION
LBS
LURE/OZ
GUIDES
PCS
MSRP
FS1152
11'6
FAST-LIGHT
4-8
1/8-1/3
9+TIP
2
$135.00
FS1302
13'0
LIGHT
4-8
1/8-1/3
10+TIP
2
$153.00
Other Float Rods and Salmon Rods.
Reviews
Add Review
"Streamside Steelhed Rod"

|

FS1152

I have this rod for a year now and i love it. It is extremely light rod with a lot backbone.No shoulder pain after long day at the river.One of the bast feature on this rod is that i never get guide rings frozen on it and that is big plus for me because i,m winter steelhead chaser. I have many rods but this one is always my first choice and never let me down.

"excellent rod"

|

FS1302

i've been chasing steel now for over 20yrs. in those twenty yrs i have used every rod on the market.the im8 is the perfect steelhead rod. has the soft tip for settin the hook. and the backbone when need to pull those big ones in. half the rods out there all your doin is payin for the name. this rod is on the level of so many high end rods out there and at a quater of the price. i use this rod everyday .

"Fantastic float rod"

|

FS1302

I have been using this float rod for the past couple years and it has never let me down. It's a very light rod with decent backbone and a soft tip. Perfect for long days on the river chasing chrome steelhead. Great value and a perfect rod for beginners getting into river fishing.