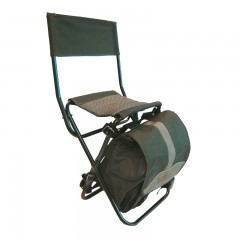 Built In Chair Backpack
Our Backwoods® Chair/ Backpack Combo is one of the most unique items on the market. Constructed with 600 denier Codura™ polyester, the backpack also is equipped with three outer pockets and a rain flap. Combine that with a padded seat and lightweight fold able frame and the chair/ backpack combo is one of the most versatile and valuable items you can purchase.
Backwoods
Constructed from 600 denier Codura
Backpack features 3 outer packets with rain flaps
Padded straps
Dimensions: 9" x 15" x 22"
Chair features padded seat with durable woven layer
Strong lightweight frame folds down
Specifications
Other Specialty Bags.
Reviews
Add Review
There are no reviews for this product. be the first one!